for K240/K271 special edition
Immersed in sound and get your own studio environment.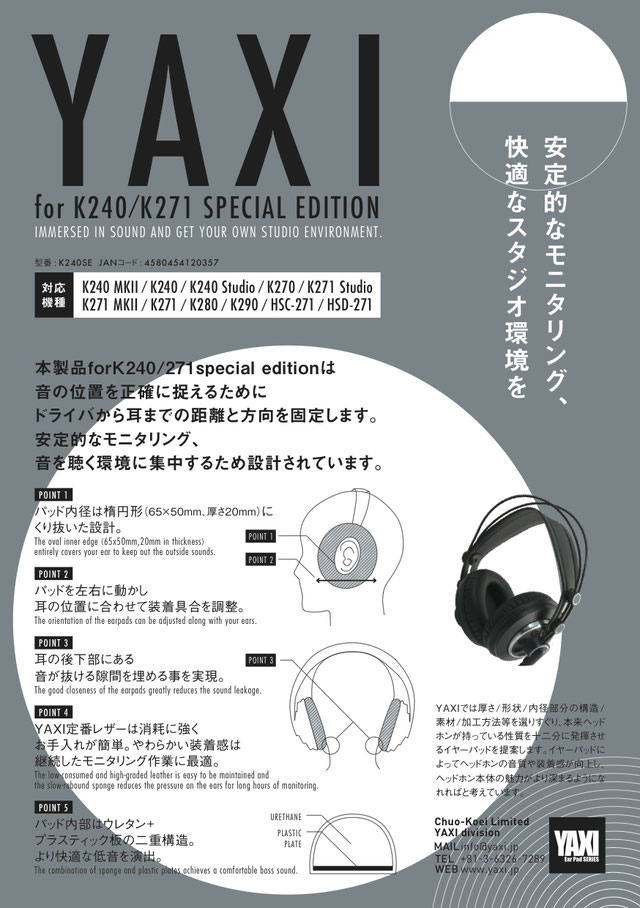 本製品for K240/271special editionは音の位置を正確に捉えるためにドライバから耳までの距離と方向を固定します。安定的なモニタリング、音を聞く環境に集中するために設計されています。
特徴
point1
パッド内径は楕円形(65x50mm,厚さ20mm)にくり抜いた設計。耳を覆い隠すことで密閉性を高める。
The oval inner edge entirely covers your ear to keep out the outside sounds.
point2
パッドを左右に動かし、耳の位置に合わせて装着具合を調整。
The orientation of the earpads can be adjusted along with your ears.
point3
耳の後下部にある
音が抜ける隙間を埋める事を実現。
The good closeness of the earpads greatly reduces the sound leakage.
point4
YAXI定番レザーは消耗に強くお手入れが簡単。やわらかい装着感は継続したモニタリング作業に最適。
The low-consumed and high-graded leather is easy to be maintained
and the slow-rebound sponge reduces the pressure on the ears for long hours of monitoring.
point5
パッド内部はウレタン+プラスティック板の2重構造。
より快適な低音を演出。
The combination of sponge and plastic plates achieves a comfortable bass sound.
6/27追記
お客様から頂いた本製品に対するレビュー等でBeyerdynamicのヘッドホンにも交換可能とのご指摘を受け、幾つかのお取引先とご相談した結果、現在本製品の交換可能機種に以下のヘッドホンを追加しております。
対応機種:AKG K240MKII / K240 / K240studio / K270 / K271 / K271MKII / K280 / K290 / HSC-271 / HSD-271
交換可能機種:Beyerdynamic DT770.DT880,DT990,Custom One,T70,T90,T5p and more.
製品名:YAXI for K240/K271 Special Edition
型番:K240SE
JAN:4580454120357
定価:OPEN
販売推奨価格:4980円(税抜)
画像