イヤーパッド YAXI HD800 Comfort Earpads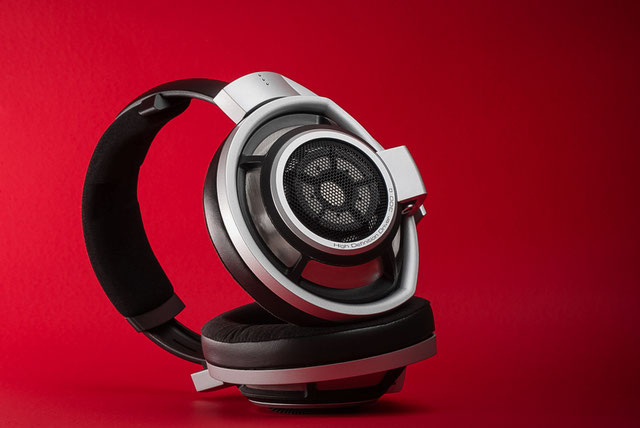 特徴 Features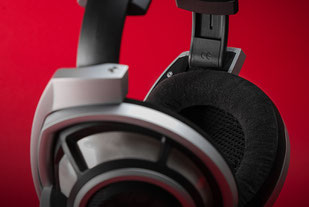 The Earpads sport soft, breathable Alcantara on the facing and inner surfaces with faux leather tracing the perimeter.
Relative to the stock pads, there's a roughly 2mm increase in pad width that provides a larger contact surface with the head.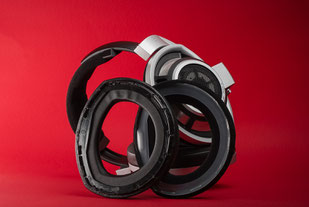 The new-developed mounting rings which are glued firmly can provide great engagement, attaching with a "click" .
Overall comfort is improved, offering a bit more earcup volume for wider ears and the sound is smoother, more balanced and more pleasing without excessive changes.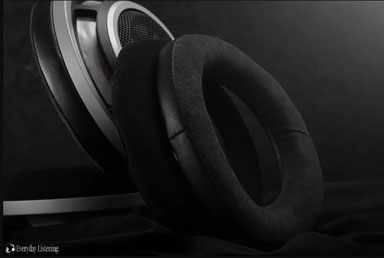 Sennheiser requires no introduction nor does their flagship over-ear headphone, the HD800. This model has earnt legendary status over the years and remains a popular and well-regarded choice alongside its successor, the HD800S. Though the mid-treble tuning and bass extension on both models have proven divisive over the years, the soundstage remains a fantastic performer and they are still among the most comfortable full-size headphones on the market. Indeed, new flagships offer a more well-rounded experience, however, so too do they come in at a substantially higher cost. Given that these two models are getting up there in years, they can now be found at further discounted prices on the second-hand market, increasing their appeal. Yaxi treat yet another model with their magic by introducing the new HD800(S) earpads. These pads share an Alcantara and faux leather BOM with their other designs alongside plush memory foam padding. They offer a little more padding than stock alongside the promise of a warmer and more forgiving sound. Click here to see the full review.
Review by 野村ケンジ (Kenji Nomura)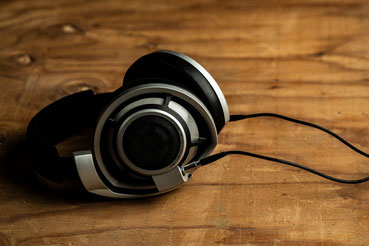 モニターユースとしても、コンシューマー向けとしても人気の高い高級ヘッドホンの定番モデル「HD800」は、発売から15年を迎えようとする現在も根強い人気を保ち続けています。そんな「HD800」用のイヤーパッドが完成しました。ちなみにこちらの製品、野村ケンジがサウンド等々の監修を手がけさせてもらった第4弾のモデルとなっています。
純正の「HD800用」イヤーパッドには樹脂製パーツに加えてビニール製クッション材が採用されており、しかも着脱が不安定で、1回外すとなかなか元通りにできない(しっかりとはまってくれない)ことが生じてしまう弱点がありました。YAXIでは、まず最初に"しっかりとした装着"がおこなえるよう、オリジナルの樹脂パーツを開発。数タイプのサンプルを経て、ヘッドホン本体にパシッとしっかりはまってくれるものが出来上がりました。
もちろん、それと並行して装着感やサウンドの調整もおこなっています。まず装着感については、純正以上の心地よさ、長時間の使用時にも快適であることを求め、肌に接触する面にはアルカンターラ素材を採用。サイド部分はプロテインレサーを使い装着感を高める、YAXIお得意のハイブリッド素材構成としました。そして、その内部にはフィット感のよさと圧力の少なさのバランスに配慮して低反発ウレタンフォームをチョイス。さらに、純正イヤーパッドがかなり薄型であったため、人によっては耳の後ろや下側に隙間が生じやすく音質にも悪影響を与えることから、これを解決するために高さのある立体的な構造のデザインを採用することにしました。こういった各部のバランスを整えていくのに、今回の製品は随分と時間がかかってしまいました。とはいえ、時間をかけた分、完成度の高い製品が出来上がってくれたのも確かです。
サウンドに関しても、かなりバランスのよいものになったと思います。もともと「HD800」は聴感上フラットに感じられるサウンドバランスを目指してチューニングされているようで、音楽ジャンルに得手不得手はなく、それでいてヴォーカルやメイン楽器などがエネルギッシュに感じられる音色傾向を持ち合わせているという絶妙なサウンドに仕上がっていますが、楽曲によっては、高域の倍音成分の揃いや、低域の弱さなどが気になってきます。これをYAXIイヤーパッドが見事に解決、素材の変化によって高域の伸びやかさがスムーズになり、装着感の向上によって低域の量感もほんの僅かに増加。おかげで、さらに心地よい、さらにバランスの整ったサウンドにシフトして切れています。これぞ「HD800」本来のサウンドなのでは、そういいたくなるマッチングのよさを実現しました。
ちなみに、今回の製品、音質調整については「HD800」のみを参考にしていますが、当然ながら「HD800S」にも使用可能となっています。気になる人は、是非試してみて下さい。
このようにYAXI「HD800」イヤーバッドは、心地よい装着感と音質的な"ちょっとしたクオリティアップ"を両立した、なかなかに魅力的な製品に仕上がっています。多くの「HD800」ユーザー、特に長時間聴き続けることが多い人にはオススメの製品です。是非ご活用ください。
YAXI HD800 Comfort Earpads
【Package】 
Package includes a pair of Earpads and a pry tool.
【Compatible Headphone Models】
 SENNHEISER HD800/HD800S
【Exclusive 

gift】
A YAXI black headphone pouch (valued 4.99 dollars) for free.
Final price
Free shipping to the following countries: Afghanistan, Albania, Andorra, Angola, Anguilla, Antarctica, Antigua and Barbuda, Armenia, Netherlands Antilles, United Arab Emirates , Algeria, American Samoa, Argentina, Aruba, Australia, Austria, Azerbaijan, Bahamas, Bahrain, Bangladesh, Barbados, Belarus, Belgium, Belize, Benin, Bermuda, Bhutan, Bolivia, Bosnia and Herzegovina, Botswana, Bouvet Island, Brazil, British Indian Ocean Territory, British Virgin Islands, Brunei, Bulgaria, Burkina Faso, Burundi, Cambodia, Cameroon, Canada, Cape Verde, Cayman Islands, Central African Republic, Chad, Chile, China, Christmas Island, Cocos [Keeling] Islands, Colombia, Comoros, Congo - Brazzaville, Congo - Kinshasa, Cook Islands, Costa Rica, Côte d'Ivoire, Croatia, Cuba, Cyprus, Czech Republic, Denmark, Djibouti, Dominica, Dominican Republic, Ecuador, Egypt, El Salvador, Equatorial Guinea, Eritrea, Estonia, Ethiopia, Falkland Islands, Faroe Islands, Fiji, Finland, France, French Guiana, French Polynesia, French Southern Territories, Gabon, Gambia, Georgia, Germany, Ghana, Gibraltar, Greece, Greenland, Grenada, Guadeloupe, Guam, Guatemala, Guinea, Guinea-Bissau, Guyana, Haiti, Heard Island and McDonald Islands, Honduras, Hong Kong SAR China, Hungary, Iceland, India, Indonesia, Iran, Iraq, Ireland, Israel, Italy, Jamaica, Japan, Jordan, Kazakhstan, Kenya, Kiribati, Kuwait, Kyrgyzstan, Laos, Latvia, Lebanon, Lesotho, Liberia, Libya, Liechtenstein, Lithuania, Luxembourg, Macau SAR China, Macedonia, Madagascar, Malawi, Malaysia, Maldives, Mali, Malta, Marshall Islands, Martinique, Mauritania, Mauritius, Mayotte, Mexico, Micronesia, Moldova, Monaco, Mongolia, Montenegro, Montserrat, Morocco, Mozambique, Myanmar [Burma], Namibia, Nauru, Nepal, Netherlands, New Caledonia, New Zealand, Nicaragua, Niger, Nigeria, Niue, Norfolk Island, Northern Mariana Islands, North Korea, Norway, Oman, Pakistan, Palau, Palestinian Territories, Panama, Papua New Guinea, Paraguay, Peru, Philippines, Pitcairn Islands, Poland, Portugal, Puerto Rico, Qatar, Réunion, Romania, Russia, Rwanda, Saint Barthélemy, Saint Helena, Saint Kitts and Nevis, Saint Lucia, Saint Martin, Saint Pierre and Miquelon, Saint Vincent and the Grenadines, Samoa, San Marino, São Tomé and Príncipe, Saudi Arabia, Senegal, Serbia and Montenegro, Seychelles, Sierra Leone, Singapore, Slovakia, Slovenia, Solomon Islands, Somalia, South Africa, South Georgia and the South Sandwich Islands, South Korea, Spain, Sri Lanka, Sudan, Suriname, Svalbard and Jan Mayen, Swaziland, Sweden, Switzerland, Syria, Taiwan, Tajikistan, Tanzania, Thailand, Timor-Leste, Togo, Tokelau, Tonga, Trinidad and Tobago, Tunisia, Turkey, Turkmenistan, Turks and Caicos Islands, Tuvalu, Uganda, Ukraine, United Kingdom, United States, Uruguay, U.S. Minor Outlying Islands, U.S. Virgin Islands, Uzbekistan, Vanuatu, Vatican City, Venezuela, Vietnam, Wallis and Futuna, Western Sahara, Yemen, Zambia, Zimbabwe Show more Show less