YAXI ESP950 Comfort Earpads イヤーパッド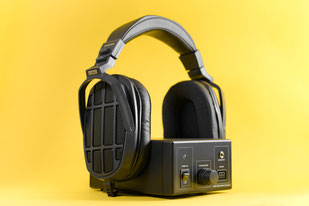 野村ケンジプロデュース第3弾。
"快適な装着感"を実現しつつもESP950本来の音の魅力を損なわない製品を作り上げること。
素材は快適な装着感と音質面の優位性を両立できるアルカンターラとプロテインレザーのハイブリッド構成。静電型ユニットならではのきめ細やかなディテール表現は変わらず、ダイレクト感が高まり、同時に解像感をクオリティアップさせる。
「ESP950」の魅力をしっかり引き出し、バランスの良い心地よい装着感と音質的な"ちょっとしたクオリティアップ"を両立した魅力的な製品となっている。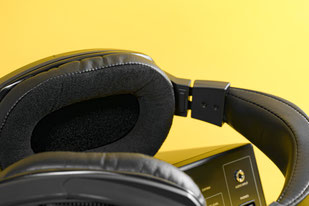 YAXI Earpads have repeatedly impressed audiophiles with the tangible boosts in long-term comfort and sonic performance.
This time we offer a new level of listening comfort for your ESP950. They are finished in Alcantara and protein leather for outstanding breathability and supple feel. They don't change the ESP950 but improve the timbral accuracy and texture.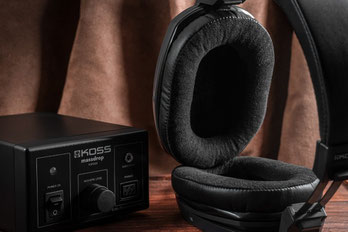 Dip your toes deep enough into the audiophile scene and you will likely start to hear mention of electrostatic headphones. Lauded for their lightning fast drivers delivering the pinnacle of detail and acuity, the hopes and dreams of many are quickly shattered when they find out how cost-prohibitive this pursuit can become. Drop challenged this notion with their re-release of the famous ESP/950 in the form of the ESP/95X. This is an electrostatic headphone system plus energizer all for under $500 USD. However, though it does offer a taste of the electrostatic experience, many have found that the frequency response leaves much to be desired, especially when it comes to bass response. Who better to address this than Yaxi, Japanese earpad extraordinaire. These guys are making some of the best pads in the game, all purpose built for a particular headphone based on popular feedback. Click here to see the full review "YAXI Earpads for Koss ESP/95X Review – Balance is Best"
Quite rarely I find accessory products offering such an evident improvement as to fall into "no brainer" territory. Yaxi ESP950 Comfort pads are no doubt one of such uncommon cases. The positive impact they bring onto Koss ESP/950 sound is nothing short of remarkable. This, paired with their very convincing construction quality, and a quick look at the cost of the HPs they apply onto, make their purchase cost an absolute bargain. Click here to see the full review "YAXI ESP950 Comfort Pads – No Brainer"
Review by Kenji Nomura レビュー/監修 野村ケンジ
ヘッドホンから本格ホームシアターまでオーディオに関する様々な記事を手がけるAVライター。ポータブルオーディオやホームオーディオなどのAV機器をメインに、専門誌やモノ誌、WEB媒体などで幅広く活躍。そのなかでもヘッドホン&イヤホンに関しては年間300モデル以上の製品を毎年試聴し続けているなど深い造詣を持つ。近年はTBSテレビ開運音楽堂「KAIUNハイレゾ」のアドバイザーとしてレギュラー出演するなど活動の幅をさらに広めている。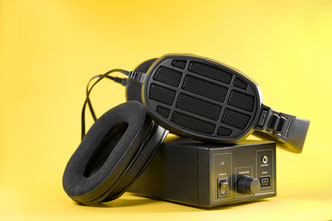 KOSS「ESP950」は、ヘッドホンの老舗メーカーであるアメリカKoss Corporationがラインアップする静電型ヘッドホン。もともと1990年初頭に発売された製品だが、根強い人気もあってか、つい先日、現代アレンジ版といえる仕様のモデルが発売されることとなった。
 1990年当時と変わらないレトロな外観と、静電型ユニットならではの上質なサウンドを持ち合わせる「ESP950」は、当時のオリジナル版も現代アレンジ版も変わらず好評を博しているが、イヤーパッドに関していうと、当時のフェイクレザータイプは耐用年数がとっくに終わっているし、現代版はベロアタイプのため好みが分かれる傾向にある。そんな「ESP950」に快適なイヤーパッドを、と企画されたのが今回のYAXI ESP950 Comfortだ。そして、この製品に関しては野村ケンジがサウンド等々を監修。"K712/Q701系"、"A2000Z/AD2000X"に続く、第3弾の野村ケンジ・プロデュースのイヤーパッドとなっている。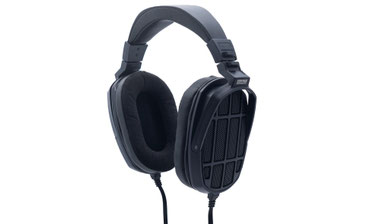 今回、監修のポイントとしては"快適な装着感"を実現しつつも"「ESP950」本来の音の魅力を損なわない"製品を作り上げることに注力した。まず、素材としては素材はアルカンターラとプロテインレザーのハイブリッド構成をチョイス。これは、快適な装着感と音質面の優位性を両立できる組み合わせであることを過去のプロデュース製品の開発で充分に把握しているため。まずはファーストサンプルとして、純正とほぼ同じカタチの、体に当たる面がアルカンターラでサイド部分がプロテインレザーのハイブリッド素材イヤーパッドを作ってもらった。
実際に試聴してみると、このファーストサンプルの完成度はなかなかに高く、想像していた以上に音質面での追求が期待できることが分かった。そこで、ちょっとだけ欲を出し、開口部の大きさやユニット側の角度、内部素材の再検討など、細部の造り込みを押し進めたセカンドサンプルの作成を依頼。具体的には、静的生と密閉度を両立するためソフトタイプのスポンジを採用しつつ、純正と変わらぬポジションを維持するため高さの微調整をしたり、音色傾向を調整するために開口部を広げたり、(ファーストモデルに対して)いくつかの細かな変更を行っている。結果として、狙い通りのサウンドを実現することができた。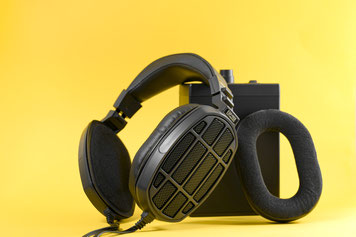 さて、完成した製品はというと、YAXIならでは、アルカンターラならではの良質な感触を持ち合わせている。オリジナル版のフェイクレザーに対してはもちろんのこと、現代アレンジ版のベロア素材に比べても、格段に心地よい肌触りになったと感じて貰えるだろう。更に、音質に関してもかなりのクオリティアップが実現できている。現代アレンジ版のベロア素材イヤーパッドに対しては、静電型ユニットならではのきめ細やかなディテール表現は変わらず、ダイレクト感が高まり、同時に解像感も(わずかながら)クオリティアップしている。「ESP950」の魅力をしっかり引き出す、バランスのよい製品を作り上げることができた。
このようにYAXI ESP950 Comfortは、YAXIならではのきめ細やかな製品作りによって、心地よい装着感と音質的な"ちょっとしたクオリティアップ"を両立した魅力的な製品となっている。多くの「ESP950」ユーザー、特に長時間「ESP950」を聴き続けたい人などには、ぜひオススメしたい。
"Your Personal Audio Room" Poster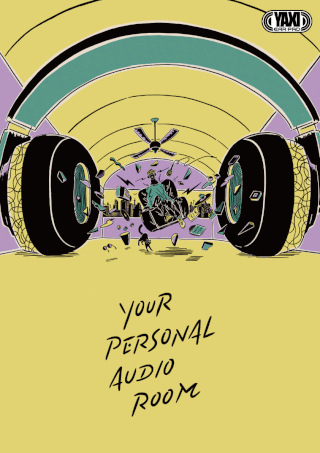 About the Author 
オタニじゅん
アートディレクター / イラストレーター / グラフィックアーティスト
1980年生まれ。鳥取県出身。東京都在住。
2004年、武蔵野美術大学視覚伝達デザイン卒。 
OTANIJUN
ART DIRECTOR /ILLUSTRATOR /GRAPHIC ARTIST
Was born in Tottori Prefecture in 1980 and now  lives in Tokyo. He studied design at the Musashino Art University and graduated in 2004.
More information please see: http://otanijun.com/
YAXI ESP950 Comfort Earpads +A3 Poster
You will get an A3-sized "Your Personal Audio Room" poster for free.
Final price
Free shipping to the following countries: Afghanistan, Albania, Andorra, Angola, Anguilla, Antarctica, Antigua and Barbuda, Armenia, Netherlands Antilles, United Arab Emirates , Algeria, American Samoa, Argentina, Aruba, Australia, Austria, Azerbaijan, Bahamas, Bahrain, Bangladesh, Barbados, Belarus, Belgium, Belize, Benin, Bermuda, Bhutan, Bolivia, Bosnia and Herzegovina, Botswana, Bouvet Island, Brazil, British Indian Ocean Territory, British Virgin Islands, Brunei, Bulgaria, Burkina Faso, Burundi, Cambodia, Cameroon, Canada, Cape Verde, Cayman Islands, Central African Republic, Chad, Chile, China, Christmas Island, Cocos [Keeling] Islands, Colombia, Comoros, Congo - Brazzaville, Congo - Kinshasa, Cook Islands, Costa Rica, Côte d'Ivoire, Croatia, Cuba, Cyprus, Czech Republic, Denmark, Djibouti, Dominica, Dominican Republic, Ecuador, Egypt, El Salvador, Equatorial Guinea, Eritrea, Estonia, Ethiopia, Falkland Islands, Faroe Islands, Fiji, Finland, France, French Guiana, French Polynesia, French Southern Territories, Gabon, Gambia, Georgia, Germany, Ghana, Gibraltar, Greece, Greenland, Grenada, Guadeloupe, Guam, Guatemala, Guinea, Guinea-Bissau, Guyana, Haiti, Heard Island and McDonald Islands, Honduras, Hong Kong SAR China, Hungary, Iceland, India, Indonesia, Iran, Iraq, Ireland, Israel, Italy, Jamaica, Japan, Jordan, Kazakhstan, Kenya, Kiribati, Kuwait, Kyrgyzstan, Laos, Latvia, Lebanon, Lesotho, Liberia, Libya, Liechtenstein, Lithuania, Luxembourg, Macau SAR China, Macedonia, Madagascar, Malawi, Malaysia, Maldives, Mali, Malta, Marshall Islands, Martinique, Mauritania, Mauritius, Mayotte, Mexico, Micronesia, Moldova, Monaco, Mongolia, Montenegro, Montserrat, Morocco, Mozambique, Myanmar [Burma], Namibia, Nauru, Nepal, Netherlands, New Caledonia, New Zealand, Nicaragua, Niger, Nigeria, Niue, Norfolk Island, Northern Mariana Islands, North Korea, Norway, Oman, Pakistan, Palau, Palestinian Territories, Panama, Papua New Guinea, Paraguay, Peru, Philippines, Pitcairn Islands, Poland, Portugal, Puerto Rico, Qatar, Réunion, Romania, Russia, Rwanda, Saint Barthélemy, Saint Helena, Saint Kitts and Nevis, Saint Lucia, Saint Martin, Saint Pierre and Miquelon, Saint Vincent and the Grenadines, Samoa, San Marino, São Tomé and Príncipe, Saudi Arabia, Senegal, Serbia and Montenegro, Seychelles, Sierra Leone, Singapore, Slovakia, Slovenia, Solomon Islands, Somalia, South Africa, South Georgia and the South Sandwich Islands, South Korea, Spain, Sri Lanka, Sudan, Suriname, Svalbard and Jan Mayen, Swaziland, Sweden, Switzerland, Syria, Taiwan, Tajikistan, Tanzania, Thailand, Timor-Leste, Togo, Tokelau, Tonga, Trinidad and Tobago, Tunisia, Turkey, Turkmenistan, Turks and Caicos Islands, Tuvalu, Uganda, Ukraine, United Kingdom, United States, Uruguay, U.S. Minor Outlying Islands, U.S. Virgin Islands, Uzbekistan, Vanuatu, Vatican City, Venezuela, Vietnam, Wallis and Futuna, Western Sahara, Yemen, Zambia, Zimbabwe Show more Show less
対応機種 Compatible Models:
KOSS ESP950
KOSS ESP95X 
Specification
Outer Diameter: 128mm
Inner Diameter: 80mm
Thickness: 20mm