YAXI HD25 SpaceRay Earpads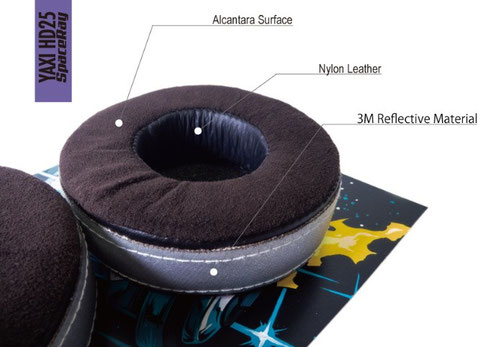 特徴 Features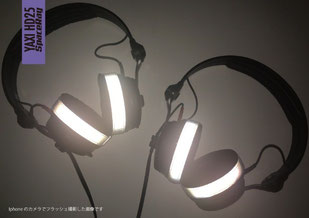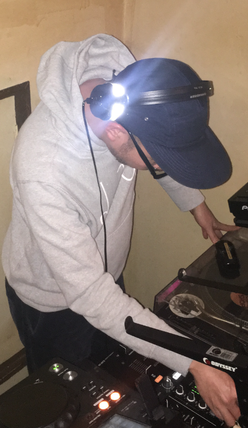 YAXI HD25 SpaceRayは、3Mの再帰反射素材リフレクター(scotchlite 8935)をパッド側面にステッチしたHi-Vis仕様のイヤーパッドです。耳の当たる表面部分には高級イタリア製素材アルカンターラを採用し、側面部分に柔らかい感触のプロテインレザーとのハイブリッドであるが、さらにその側面にリフレクター素材をステッチした仕様となっている。尚、内側にはナイロンレザーを採用し、TypeBやComfortとも違ったサウンドを体験できる構造になっている。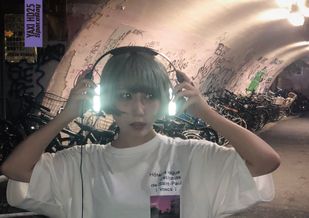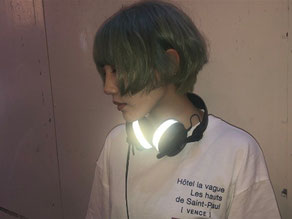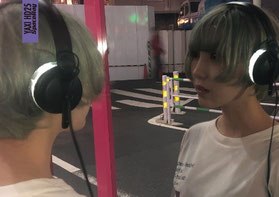 Can Never Be Too Shiny
YAXI first HI-VIS Earpads, HD25 SpacyRay, use 3M reflective material to make your HD25 bright and crazy! Essential for the darker evenings. as well as for the night joggers and walkers.
Also the smooth and velvety Alcantara surfaces feel great on the skin, with neither dampness nor discomfort after hours of use. It combines comfort, durability and unmatched flash.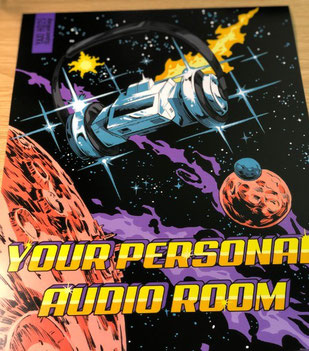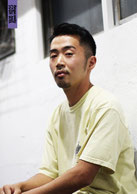 About the Author:
Takuya Kamioka
ANARCHY「The King」,KOHH「monochrome」, 水曜日のカンパネラ「ジパング」や、KANDYTOWN、YENTOWN、BADHOPなど注目のHIPHOPアーティストのアルバムアートワークからBlackeyepatch、Sasquatchfabrix.、John's by JOHNNYなどのファッションブランドにデザインを提供、また店舗のインテリアに、ドトールのコーヒー豆など商品パッケージのデザインまでこなす多才なイラストレーター/グラフィックデザイナー。(www.kamioka-takuya.com)
本製品ユーザーからのコメント・レビュー
YAXI HD25 SpaceRay Earpads
Package contains two pieces of earpads and two pieces of filters. An A3-sized HD25 SpacyRay Poster is also included.
ポスターが同封されます。
Final price
Free shipping to the following countries: Afghanistan, Albania, Andorra, Angola, Anguilla, Antarctica, Antigua and Barbuda, Armenia, Netherlands Antilles, United Arab Emirates , Algeria, American Samoa, Argentina, Aruba, Australia, Austria, Azerbaijan, Bahamas, Bahrain, Bangladesh, Barbados, Belarus, Belgium, Belize, Benin, Bermuda, Bhutan, Bolivia, Bosnia and Herzegovina, Botswana, Bouvet Island, Brazil, British Indian Ocean Territory, British Virgin Islands, Brunei, Bulgaria, Burkina Faso, Burundi, Cambodia, Cameroon, Canada, Cape Verde, Cayman Islands, Central African Republic, Chad, Chile, China, Christmas Island, Cocos [Keeling] Islands, Colombia, Comoros, Congo - Brazzaville, Congo - Kinshasa, Cook Islands, Costa Rica, Côte d'Ivoire, Croatia, Cuba, Cyprus, Czech Republic, Denmark, Djibouti, Dominica, Dominican Republic, Ecuador, Egypt, El Salvador, Equatorial Guinea, Eritrea, Estonia, Ethiopia, Falkland Islands, Faroe Islands, Fiji, Finland, France, French Guiana, French Polynesia, French Southern Territories, Gabon, Gambia, Georgia, Germany, Ghana, Gibraltar, Greece, Greenland, Grenada, Guadeloupe, Guam, Guatemala, Guinea, Guinea-Bissau, Guyana, Haiti, Heard Island and McDonald Islands, Honduras, Hong Kong SAR China, Hungary, Iceland, India, Indonesia, Iran, Iraq, Ireland, Israel, Italy, Jamaica, Japan, Jordan, Kazakhstan, Kenya, Kiribati, Kuwait, Kyrgyzstan, Laos, Latvia, Lebanon, Lesotho, Liberia, Libya, Liechtenstein, Lithuania, Luxembourg, Macau SAR China, Macedonia, Madagascar, Malawi, Malaysia, Maldives, Mali, Malta, Marshall Islands, Martinique, Mauritania, Mauritius, Mayotte, Mexico, Micronesia, Moldova, Monaco, Mongolia, Montenegro, Montserrat, Morocco, Mozambique, Myanmar [Burma], Namibia, Nauru, Nepal, Netherlands, New Caledonia, New Zealand, Nicaragua, Niger, Nigeria, Niue, Norfolk Island, Northern Mariana Islands, North Korea, Norway, Oman, Pakistan, Palau, Palestinian Territories, Panama, Papua New Guinea, Paraguay, Peru, Philippines, Pitcairn Islands, Poland, Portugal, Puerto Rico, Qatar, Réunion, Romania, Russia, Rwanda, Saint Barthélemy, Saint Helena, Saint Kitts and Nevis, Saint Lucia, Saint Martin, Saint Pierre and Miquelon, Saint Vincent and the Grenadines, Samoa, San Marino, São Tomé and Príncipe, Saudi Arabia, Senegal, Serbia and Montenegro, Seychelles, Sierra Leone, Singapore, Slovakia, Slovenia, Solomon Islands, Somalia, South Africa, South Georgia and the South Sandwich Islands, South Korea, Spain, Sri Lanka, Sudan, Suriname, Svalbard and Jan Mayen, Swaziland, Sweden, Switzerland, Syria, Taiwan, Tajikistan, Tanzania, Thailand, Timor-Leste, Togo, Tokelau, Tonga, Trinidad and Tobago, Tunisia, Turkey, Turkmenistan, Turks and Caicos Islands, Tuvalu, Uganda, Ukraine, United Kingdom, United States, Uruguay, U.S. Minor Outlying Islands, U.S. Virgin Islands, Uzbekistan, Vanuatu, Vatican City, Venezuela, Vietnam, Wallis and Futuna, Western Sahara, Yemen, Zambia, Zimbabwe Show more Show less
対応機種 Compatible Models
SENNHEISER HD25 All Models
AIAIAI TMA-1 /TMA-2
Audio Technica ATH-ESW9/ATH-ES7
型番:HD25-3M
JAN:4580454120999
価格:4600円(税抜)